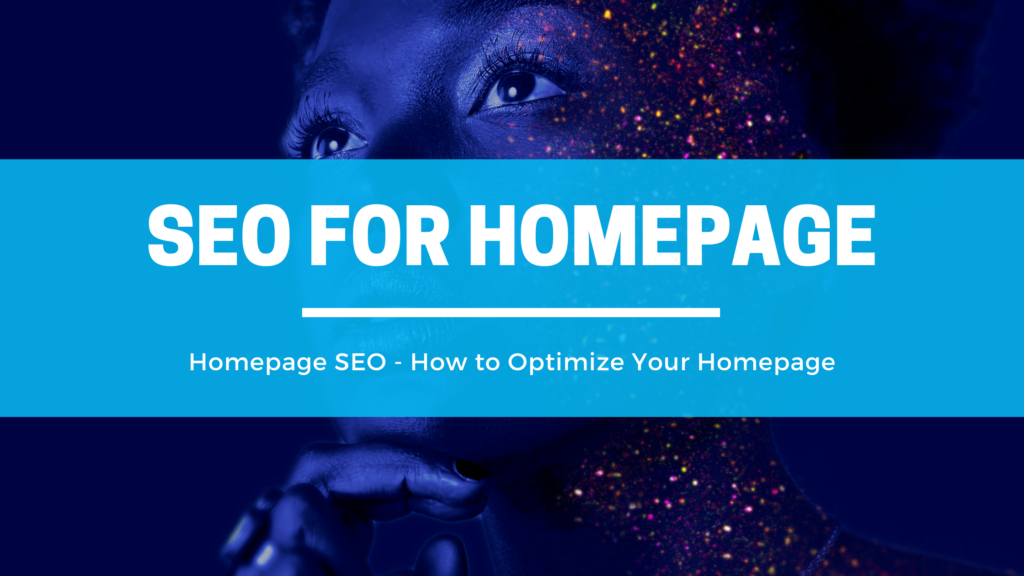 SEO for Homepage-Homepage SEO Tips to Optimize Homepage
SEO for Homepage aims to make your homepage as search engine friendly as possible, so that people can find your website easily. This means focusing on your target audience and telling Google what your site is all about. Aside from keywords, the content of your site also plays a role in homepage SEO. It is therefore important to create a theme for your website and implement good SEO techniques.
The content of your homepage should include all the details about your business, along with images that illustrate what your company offers. It should also have links to relevant sections and other important pages. The best homepage content includes information on the latest products, trending topics, and recent news. It also includes links to your latest blogs and featured articles.
A homepage title tag is an important part of SEO. The description should not exceed 158 characters on desktop and 120 characters on mobile. It should also contain your keyword. The meta title is an essential part of website optimization, and it is also known as the page title or the title tag. This is important because it acts as the name tag of your web page.
You should also include ALT text in your images. The ALT text is the description of the image, and it should include your keyword phrases. The text needs to look natural, not artificial. Google does not like spammy links, so make sure the links to your homepage are valuable and relevant. Guest posting is a great way to acquire these links. When writing a guest post, you should make sure to cite your homepage in the body of the article.
SEO for Homepage-How to SEO Optimize your Homepage
Your SEO for homepage should be optimized for mobile devices. If you do not optimize your homepage for mobile users, they will most likely leave your site. You can use responsive design to ensure that your website looks good on any device.
If you want more traffic to your homepage, then you need to focus on social media marketing. Social media sites such as Facebook, Twitter, LinkedIn, and Instagram allow you to share your posts with friends and followers. Make sure to add a link back to your homepage when sharing a blog post.
If you want to increase your conversion rate, then you need to improve your bounce rate. A high bounce rate indicates that visitors are leaving your site without reading anything. To avoid this problem, you can place a call-to-action button at the bottom of every page.
Increase Website Traffic Using SEO for Homepage Backlinks
Backlinks are one of the most effective ways to drive traffic to your website. They are essentially free traffic, but they come with some risks. In order to get backlinks, you must first build relationships with other websites. There are many different types of backlink building strategies, which we will discuss below.
One of the easiest ways to get backlinks is by commenting on other websites. Commenting on popular blogs is a great way to gain backlinks. However, if you comment on too many blogs, you may start getting flagged by Google. Instead, try commenting on blogs that are related to your niche.
Another easy way to get backlinks is through forums. By participating in forum discussions, you can ask questions and answer others' questions. This helps you establish yourself as an expert in your field.
Another way to get backlinks from forums is to write reviews. Write detailed reviews of products and services that you think people would benefit from. For example, if you run a restaurant, you could review restaurants similar to yours.
SEO for Homepage and Guest Blocking
The last type of backlink building strategy is called guest blogging. Guest blogging is a great way to get backlinks to your website. All you have to do is find a reputable company that has a blog. Then, contact them and offer to write a guest post for their blog.
When writing a guest post, make sure to mention your own website in the body of the post. Also, don't forget to cite your website in the footer of the post.
You can also create content for other websites. If you know how to write well, you can easily write articles for other websites. Just remember to always give proper credit to the author of the original content.
There are many different ways to generate traffic to your website. Some methods work better than others depending on your goals. We hope that you found this helpful.
Tips to SEO for Homepage- On-Page SEO
A homepage is meant to be the home base for your brand. It's where visitors come to learn about you, what you do, and what makes you different from your competitors. Your homepage is often the most important part of your digital presence because it represents your brand.
But there are many misconceptions about optimizing a homepage for search engines. Most people believe that a homepage is just another type of page like a blog post, product page, etc., and therefore, it doesn't matter much for SEO. In reality, though, a homepage is very different from those types of pages.
Here's why:
Unlike typical pages, homepages are unique pieces of content. They're usually designed to look good and function well—not necessarily to rank well. If you want to rank well for certain terms, you must use techniques that work specifically for homepages.
How to use a focus keyphrase for homepage seo
Focus Keyphrases are the most important part of your SEO strategy. They should be used in every page on your website, and they can even be used as anchor text in links. Focus keywords are also an essential part of any link building campaign.
In this post I'll show you how to find the best focus keyword phrases that will help you rank higher in Google.
Step 1: Find your target audience
Before we start looking for focus keywords, we need to understand who our target audience is. We're going to assume that you already know who your ideal customers are.
You may not know their names, but you do know their interests. Let's take a closer look at what kind of people visit your site.
Who visits your site?
Are they men or women?
What age group?
Where do they live?
Do they work full time or part time?
What type of business do they run?
What industry are they in?
Once you know who your target audience is, you can narrow down your focus keywords by using these questions:
Who are my customers?
What do they care about?
What problems do they face?
What do they want to achieve?
What are they searching for online?
This information will give you a good idea of what types of products and services you could offer. It will also help you decide what kinds of keywords you should be targeting.
Step 2: Choose your focus keywords
Now that you know who your target market is, you can choose your focus keywords based on what they care about.
If you sell sports equipment, then you would probably want to focus on sports-related terms like "baseball bat" or "soccer ball."
If you sell health supplements, then you might want to focus on terms like "vitamin B12" or "fiber."
If you sell dog food, then you might want focus on terms like 'dog treats' or 'puppy food.'
The more specific your focus keywords are, the better chance you have of ranking high in Google.
Step 3: Create content around your focus keywords
Once you've chosen your focus keywords, it's time to create content.
Homepages Have Different Goals Than Other Pages
Most people think of a homepage as being similar to a landing page. However, a homepage isn't really intended to convert leads into customers; it's supposed to simply tell people about your brand. Therefore, your homepage needs to focus on telling a story, rather than selling something.
A homepage is a key component of every website, and it's often the most important piece of real estate on a given site. Whether you're trying to attract customers or just increase brand awareness, having a well-optimized homepage is critical.
But what exactly does "homepage SEO" mean? Well, there are many different aspects to optimizing a homepage for search engines — including things like keyword research, meta data, internal linking, and even social media integration. However, we're focusing here on the basics: building out a great home page design, creating unique content, and making sure that each page within your site is optimized for search engines.
Let's jump into the steps now.
Build Out Your Homepage Design
The first step towards effective homepage SEO is to build out your homepage design. This includes elements such as navigation, typography, imagery, color schemes, and overall layout. While it might seem like a lot of work upfront, the payoff is huge. Not only will you make sure that your homepage looks good, but you'll also ensure that visitors land on a clean, easy-to-navigate page.
SEO for Homepage and Choosing the target keyword
When you are creating a piece of content for your site, it helps to focus on one specific keyword. But why do we have to choose just one? There are several reasons:
The main reason is that choosing one word makes it easier for both sides to communicate with each other. You know exactly what your page is about without having to ask someone else what it is about. And it's much easier to explain something to people if you're talking about one thing rather than multiple things.
Another reason is that it gives you an idea of how many times your page will show up in search engines. If you are targeting 10 different words, there's a good chance that none of those 10 words will be used enough to make it into the first page of search results.
A third reason is that it allows you to see what the competition looks like. By picking one key phrase, you'll likely find out the competition for that phrase. You can use this information to check whether you want to add another keyword to your list.
Finally, it might help you figure out where you want to place your page in the rankings. For example, let's say you've chosen "buy a car." If you look at the top five positions, you'll probably notice that some of them don't include the term "car," while others do. What does that tell you? Does it matter? Yes, because it lets you know which pages are better suited to compete against each other.
If you'd like to learn more about optimizing your home page, please contact us today.
SEO for Homepage content creation
The most important thing you can do to optimize your homepage is write great content. You want people to land there and read what you've written. To do that, you need to make sure it's clear and easy to find. There are four things you need to include in every page:
Title Tag – This is the text that appears above the URL bar in a browser window. Your title tag must be unique and contain keywords related to your site. If you don't use a keyword rich title tag, searchers won't know what your site is about.
Meta Description – This is the short blurb that appears underneath the title tag. Use 160 characters or less because longer descriptions look spammy. Make sure you include your targeted keywords here.
Main Content – This is everything else on your page that isn't a link. For example, if you're selling shoes, you might have a product photo, price list, reviews, etc. Put your best foot forward here.
Schema Markup – This tells search engines exactly how your page should be structured. Search engines crawl webpages differently depending on whether they're HTML, XML, or RSS. Schema markup helps ensure that your pages are crawled properly.
SEO for Homepage and Getting Reviews
Positive reviews can greatly increase demand, but they are no guarantee of success. A recent study found that the number one reason why consumers don't buy products online is because they aren't satisfied with what they see on Amazon or eBay. So how do you make sure people know about your product before they purchase it? One way is to ask people to write reviews.
But reviews can also lead to backlinks, which can boost rankings and bring more visitors to your site. And there are many ways to find review opportunities. For example, you can analyze your competitor's backlinks to identify where he or she gets most of his or her reviews. Then you can contact the sites that provide him or her with reviews and ask if you could contribute too. Or you can simply go straight to the source and search for reviews in your product category on Google.
Another thing to keep in mind is that while positive reviews can increase demand, negative ones can decrease it. If someone leaves a bad review, you want to avoid responding immediately. Instead, wait 24 hours and send a follow up email asking why the person left such a poor review. This gives you the opportunity to respond calmly and professionally, showing that you care about customer satisfaction.
You can also use keywords like "review," "recommendation," and "testimonial" to filter competitors' backlinks for review opportunities. Search engines index the text of webpages and display them in search results. They're useful for finding information quickly, but they're limited in scope. When searching for something specific, you'll usually come across thousands of pages that contain some relevant information.
To narrow down the list, try adding terms like "best" or "comparison." These filters will show you only the pages that include those exact phrases. For example, if you're looking for a good mattress, you might enter "mattress comparison best."
If you're still having trouble finding review opportunities, you can always turn to Google. Type in your keyword phrase followed by "reviews" and hit Enter. The search engine will return a long list of search results. Clicking on each link will take you to the website that provides the review.
SEO for Homepage and Digital Press Releases
The digital public relations landscape is changing rapidly. As social networks become increasingly important tools for journalists seeking sources, it's no longer enough to simply write a press release and send it out into the ether. Nowadays, journalists are looking for additional information about companies and products. They want to know what makes you different, how you got here, where you came from, and why you matter. This requires a deeper understanding of your brand and product than ever before.
That's where digital public relations steps in. By providing journalists with the facts, figures, and stories behind your organization, you help them better understand your audience and build trust in your brand.
Guest posts help with SEO for Homepage
Guest posting, refers to publishing articles written by someone else on your site. On the other hand, guest blogging involves writing blog posts for another site. While both tactics are beneficial, they serve different purposes.
In fact, there are three main reasons why companies use guest blogging. First, it helps build relationships with influencers in your industry. Second, it improves your reputation and trustworthiness. And third, it provides exposure to your audience.
The most important thing to remember when considering guest blogging is that it requires a lot of research. You want to find out what types of blogs accept guest posts and what kinds of topics they cover. Then, you need to figure out how much experience the blogger has with your topic area, and whether he or she fits your target demographic.
SEO for Homepage and Link building
Link building isn't just about creating links; it's also about finding ways to get those links. Here are some additional link building strategies you might want to consider.
Link building is a broad topic, so there are plenty of ways to go about it. Here are some other ideas for getting back links:
Getting featured in directories and listings. This is especially effective with homepage URLs for local businesses.
Studying your competitors' back links to replicate their links (from review sites). Spotting patterns in the types of links helps you identify what works best for your site.
Reclaiming lost links. If you've had a link removed from another site, you could try contacting the owner directly. You might even ask permission to add the link back.
Adding links to community sites. There are tons of communities out there where people discuss topics related to your industry. Find one and join up. Ask questions and answer others'. When someone mentions your brand name, mention theirs in return.
Internal Links helps with SEO for Homepage
A lot of people think linking within your site is just good practice. But it's actually one of the most powerful ways to improve your rankings. Why? Let's take a look at how it works.
First off, let me say that I am a big fan of internal linking. In fact, I believe that it's something every webmaster needs to do. If you don't add internal links, you are missing out on a huge opportunity to increase traffic to your site.
But when it comes to optimizing your site, there are some important distinctions. For example, adding links to your home page is different than linking to another page on your site.
For starters, it's easier to build links to your home page because you already have a bunch of links pointing to it. Also, your home page is likely to be much more authoritative than other pages on your site. So, if you are trying to rank for a keyword related to your product, it makes sense to link to your home page and include the keyword in the anchor text.
On the other hand, if you are trying rank for a keyword related a specific topic, you probably shouldn't link to your home page. Instead, you should focus on building links to pages that cover the same topics.
Summary on What Makes a Good Homepage?
The best way to describe a homepage is that it needs to do three things well. First, it needs to provide useful information about your site. Second, it needs to link to relevant pages within your site. And third, it needs to include calls to action that encourage visitors to take specific actions.
This sounds simple enough, but it's actually quite difficult to accomplish. Let's start with the second one. If your homepage doesn't lead to related pages, it's useless. You need to make sure that every single page on your site leads somewhere else.
That means linking to each and every post on your blog, including those that contain images, videos, etc. On eCommerce stores, you need to link to products, categories, brands, reviews, etc. For informational sites, you need to link out to articles, events, and anything else that might interest readers.
But even though it sounds like a straightforward task, it's often overlooked. Many webmasters simply assume that once they publish a page, it's done. However, if you want to optimize your site for search engines, you need to keep publishing content and linking to it.
Conclusion on Homepage SEO
Homepage SEO isn't dead — just misunderstood. A lot of people think it's a waste of time because they don't understand how it works. But there are ways to use homepages effectively without sacrificing rankings. In fact, many of the most successful sites out there use homepages as part of their overall strategy.
In this article we discussed how to make the most of your homepage in terms of SEO. We covered everything from what makes a good homepage to why homepages aren't always bad for SEO. Finally, we'll looked at tactics you can use to improve your site's performance.