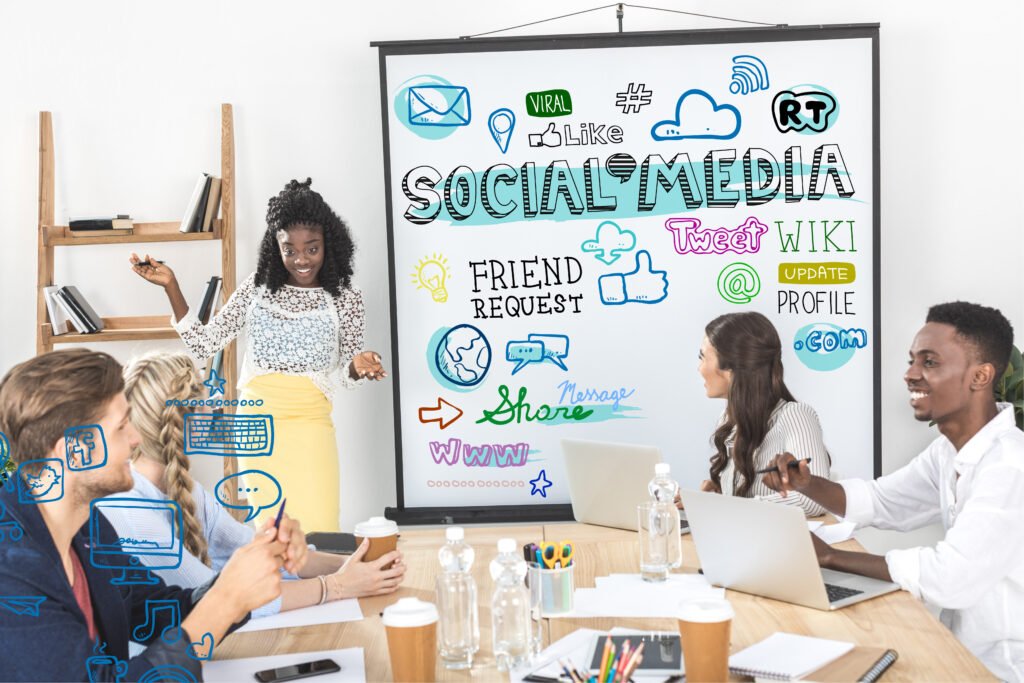 Accelerate Your Social Media Management with Fast Digital Marketing
Stand Out and Connect With Your Audience Through Social Media
In today's digital world, an effective social media presence is essential for businesses looking to engage their audience, build brand awareness, and drive sales. However, most companies struggle to leverage their social platforms to their full potential.
That's where we come in.
At Fast Digital Marketing, our social media experts are obsessed with helping brands build an audience that listens, engages, and converts across social platforms. We utilize customized strategies designed to showcase your brand personality, promote your products and services, and position you as a thought leader.
Our Social Media Services Include:
Social Media Strategy Development – We audit your existing social media presence and identify new platforms and untapped opportunities tailored to your goals. Then we create an integrated social media strategy optimized for engagement and conversions.
Content Creation & Management – Our writers and designers create compelling social posts, ads, and videos that resonate with your target audience. We also handle community management, responding to comments and messages promptly.
Paid Social Advertising – We develop and manage paid social campaigns across platforms like Facebook, Instagram, LinkedIn, and TikTok to expand your reach. Our ads convert through optimized targeting and creative.
Performance Tracking – We monitor the performance of all social initiatives and provide regular analytics reporting on engagement, reach, website traffic, and sales generated.
Influencer Partnerships – We identify and onboard influencers that align with your brand to collaborate on sponsored content and other promos that leverage their audience.
Let our social media gurus take your brand's online presence to the next level! Get in touch to learn more about our complete range of social media marketing services.
Unlock Your Social Media Potential with Fast Digital Marketing
Fast Digital Marketing possesses robust expertise in social media management and can assist brands in connecting with target audiences and expanding their presence. Our skilled team utilizes tested strategies to amplify your brand's reach and engagement.
Social Media Management Offerings:
Content Creation
We produce engaging posts, captions, stories, reels to engross your followers.
Post Scheduling
We strategically plan and schedule posts for consistent visibility and wider reach.
Platform Optimization
We ensure maximum exposure on each platform through hashtag research, tagging, etc.
Analytics & Reporting
We track engagement, growth metrics, competitors. Our insights help advance your strategy.
Benefits
We rapidly expand your reach, grow your brand, and save you time with our social media solutions.
Contact Us
Schedule a personalized consultation to see how our **social media management** can elevate your brand's online presence.
Branding Elements
– Professional logo
– Defined color scheme
– Designated fonts
– Integrated social media links
– Consistent look across platforms
Our Focus
– Intuitive site navigation
– Mobile responsive design
– Clear communication of value
– Engaging visuals
– Streamlined contact paths
        Digital Marketing Company In many cities across the USA
Pricing Plans
Bronze
$299/mo
– Content Creation: 15 posts/mo
– Post Scheduling: Scheduling on 3 platforms
– Platform Optimization: Hashtag research
– Analytics & Reporting: Monthly engagement report
Silver
$499/mo
– Content Creation: 30 posts/mo
– Post Scheduling: Scheduling on 5 platforms
– Platform Optimization: Hashtag and competitor research
– Analytics & Reporting: Monthly customized reporting
Gold
$699/mo
– Content Creation: 60 posts/mo
– Post Scheduling: Scheduling on all platforms
– Platform Optimization: Hashtag and influencer research
– Analytics & Reporting: Weekly customized reporting and insights
Platinum
$995/mo
– Content Creation: Daily content
– Post Scheduling: Real-time scheduling
– Platform Optimization: Hashtag, influencer, and audience research
– Analytics & Reporting: Daily/weekly customized reporting and insights