#1 Elite Dentist Marketing
Dentist Marketing-At Fast Digital Marketing, we have more than 20 years of experience in search engine optimization, social media marketing, and web development. We understand that running Dental practice is hard work and full of challenges. So, if you want to enjoy all the benefits of digital marketing without stressing about it, let us help you out! We help dentists find their ideal patients online using a multi-channel strategy,
Bottom Line-We help dentists get more patients in the door, improve patient engagement, and boost their rankings on search engines.
On top of our normal services, we have some very special software that makes your practice much more profitable! It's a 100% Automated Way to market your 5-star reviews and gives you 100% control over how the reviews are branded and displayed.
Our RMS software streams your 5-star reputation right to your website. It gives your future patients the ability to call you from the 5-star review they are reading. This 1 simple 10-minute strategy alone could increase revenue in a big way. Let's just say this brings in a minimum of 4 new patients more than normal in a month and the lifetime value of each patient is 25k, and you create 48 more patients over the year that would be an increase of 1,200,000 yearly in extra lifetime revenue. Now, combine this with all the other creative marketing angles we bring to the table and that increase in revenue goes through the roof!
Let's talk. Schedule a time below.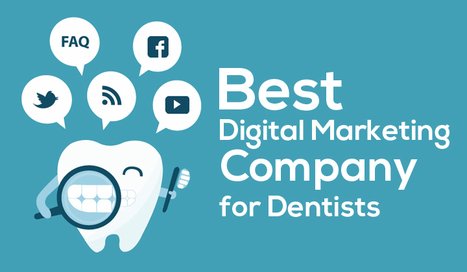 Dentists Marketing
One of the most popular forms of digital marketing is email marketing. Most people have an inbox filled with newsletters and promotional emails. By using email marketing for dentists, you can craft compelling subject lines and build a relationship with your patient base. In addition, email is the preferred method of communication for most people, so your patients will look forward to receiving emails from you! Moreover, most people prefer email to other forms of communication, so they will be more likely to take action if they see your emails in their inbox.
Dentists Marketing-Social media
If you have been thinking about integrating social media into your digital marketing strategy for your dentist practice, there are many things that you need to keep in mind. First, you need to understand that you should prioritize your core business. Spend as little time as possible on social media marketing, and use a management tool to automate your social media accounts. This way, you will spend more time on your core business instead of worrying about your social media presence.
It's also important to understand that social media is an excellent way to target prospective patients. It can help you increase foot traffic to your dental practice. It can also help you convert potential patients into new ones. Additionally, social media can boost your follower engagement. Research shows that consumers are more likely to visit a dentist they interact with on social media. Therefore, dentists who use social media effectively can expect to see better results in their practices.
Dentists Marketing-Email marketing
Creating an email marketing strategy for your dental practice is a simple, yet effective, way to build a relationship with your patients. Eight out of ten internet users have searched online for health information at some point. Moreover, eight out of ten people continue to use these platforms, so you can tap into this trend and create content geared toward your target audience. Whether it's wellness tips, videos, blogs, or even coupons, you can offer valuable information to your patients.
An email campaign that reminds patients of their scheduled appointments can help fill the dentist's chair. Many dentists send a reoccurring appointment reminder email to lapsed patients, which reduces the chances of a no-show. The email also lets them reschedule their appointments. Another way to keep patients from falling off the dentist's schedule is to use the email marketing strategy to introduce a new product or service. Include an eye-catching headline, a detailed how-to guide, and two CTAs to ensure your message gets through.
Dentists Marketing-Google My Business
If you want to maximize your Google My Business listing for digital marketing for dentists, there are several things you need to do. First of all, make sure your practice information is accurate, both on Google and anywhere else online. Consistency is key, as inconsistent information will dilute your online presence and make it difficult for potential patients to find your practice. NAP listings should be identical from listing to listing, so make sure to spell out 'Avenue' in one listing as well as in all others.
If you don't have a website, you'll want to claim your listing on Google. Otherwise, your listing can quickly become outdated. And if your practice doesn't have a website, it can be difficult to verify basic information about your business. If you have an outdated listing, you'll want to update it regularly. With Google My Business, you can do this in less than a minute.
Dentists Marketing-Paid promotion
If you're a dentist looking to reach out to a wider audience, one of the best ways to advertise is with paid promotion. Paid advertising for dentists can bring targeted traffic to your website or landing page and can arrive at the right time. PPC advertisements typically include search engine marketing and pay-per-click ads, or CPC. These advertisements have many advantages, including instant visibility on search engines, and measurable results. Because PPC advertising is tailored to the specific needs of the dentist, you can customize your campaigns for better results.
Dental advertising is particularly beneficial for after-hours searches. While it is true that this can only work for practices with online appointment booking and an answering service, this tactic can help you fill cancellations and fill vacancies after office hours. Aside from targeted advertising, dental advertising can help you keep current patients happy by reminding them of their appointments and automating reminders for them. Regardless of the type of ad you use, you'll want to keep your ad copy persuasive and informative.
Dentists Marketing-Organic social media
While it is possible to increase the reach of your business page and create a buzz with organic social media marketing, there are some things you can do to improve your chances of success. Increasing reach correlates with higher engagement rates, new followers, and more direct messages. While you can't track the number of new patients you'll get, increased reach is an important measure of exposure. This can be compared to traditional marketing for dentist, where increased reach can result in more leads.
When using social media, remember that people are real. If you listen to what they say, you'll be able to improve your services and clinic. This way, you'll be engaging with your target audience and increase your conversion rate. Remember that most customers will go online before visiting a dentist. It's never too early to start building an online presence. And if you're not already promoting your business online, don't forget to start a Twitter or Facebook account and use the social media platform as a way to reach potential patients.
Click the schedule a call button and schedule a call today.